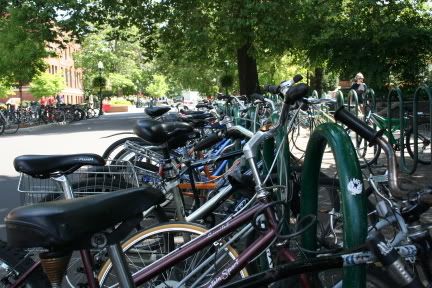 On my way to work walking down John Street Tuesday morning, my dreary eyes caught sight of a bike sitting lonely and scared by a dumpster, just waiting for a behemoth garbage truck to take him off to the bicycle slaughterhouse. I've seen "The Brave Little Toaster"...I know how these things work! (Thanks to my parents for not fostering the lie of "appliance heaven.")

I quickly grasped the bike into my loving arms. Oh, how I've yearned to be a wheeled biped lately! Twas a gift from the urban trash gods! In Eugene last week, I reconnected with my cyclical self and realized how much Al Gore hates gassy transport (at $3 dollah plus a gallon, so do I) - New York subway in summer is just slang for post-apocalyptic oven. If you ask me, the downtown A train doesn't smell of B.O...it smells of Orwell. But I digress.

So for 70 dollars (a new tire, seat and lock), or the price of a metrocard, I've pulled a Charlie Brown Christmas story (CLICK THAT LINK!) and morphed the homely little metal skeleton into the mountain bike that could (dodge tourists on Broadway, help me carry groceries, get yelled at by old people, help me enjoy New York at the cusp of fall, get my legs in mad good shape.) The guy at the bike shop said that the bike would sell for about 350 clams...sweet.

Stories like Mussolini's (the name of my bike because of its red color, it really is the "axis of blood and steel" like my man Benito), are the reason that I came to New York. Only in this city could you walk to work on a Tuesday morning, have your life changed by a dumpster and be so charmed to death that you think for a moment that it's Christmas...in August. Sigh.

In other news, I guess I unloaded my Dell just in time. Who called it??? My name isn't the only thing about me that's Biblical, I'm a prophet foos!